This Glacier Gear article is part of the book - Glacier Travel and Crevasse Rescue.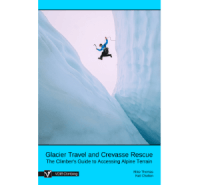 What gear you take on the glacier will depend entirely on what you plan to do once across it. The list below covers equipment that is recommended for the glacier crossing itself. You will obviously need extra equipment if planning a rock climb or an overnight camp.
Glacier Gear - Clothing
Glaciers can present extremes of temperature. On a clear summer's day, it can feel like you're standing on an inescapable boiling hot mirror, as the sun reflects off the snow and burns the underside of your nose. Conversely, when the clouds roll in and the wind picks up, it's like being inside a giant fridge-freezer.

In a rescue situation, you may be standing around for hours in these conditions. It's important to bring the correct clothing so you can withstand this variable climate. The clothing system in this chapter is for typical summer alpinism and will need to be adjusted to be warmer or lighter for specific objectives or different times of year.


Upper Body
Wear layers that you can easily adjust for different temperatures, as differences throughout the day can be huge. The layering system starts with a long-sleeved base layer (wool is ideal). It helps to protect you from the sun when worn on its own and wicks sweat away from your skin.

A mid-weight fleece (preferably with a hood) can be worn over your base layer, with a waterproof jacket on the top. This will keep the wind, rain or snow off when necessary. These three layers combined are a reasonably warm 'active' set up for an average summer alpine environment.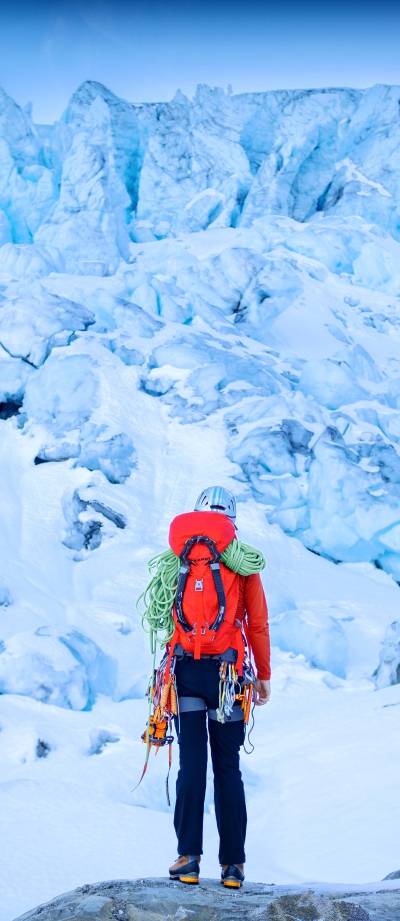 Spare Warm Layer
This is a layer that you will only wear on windy summits, long lunch breaks or during rescue situations. Down jackets are excellent in dry climates below freezing and are very lightweight for their warmth. Puffy synthetic jackets are much better in warmer weather, especially if rain is forecast. Some down jackets will repel a small amount of moisture, but the feathers will clump together in a rain storm and then you'll freeze.

Legs
Mid-weight soft shell trousers are the best choice. They are breathable, fast drying, offer some wind resistance and can shed a bit of snow. It's also important to carry a pair of lightweight waterproof over-trousers. These will add warmth if necessary and provide protection from wind, snow and rain. Thermal leggings can be worn under these layers to add warmth in colder weather.

Extremities
Good quality wool socks are warm and help prevent blisters. A windproof woollen hat is small and lightweight for the amount of warmth it provides. Keep it in your pocket when not in use so you can adjust temperature quickly without going into your rucksack. Take a pair of thin gloves that you can handle the rope with (close fitting leather gloves are good) and a thicker pair to wear if these get wet or the temperature drops.

Boots
You will need stiff mountaineering boots which are crampon compatible – either B2 or B3 mountain boots. Which type you choose depends on what else you'll be using them for. B2's are lighter, making them the best choice for general alpinism and summer rock scrambling. B3's are heavier, warmer and more suitable if you plan to use them for ice climbing too. Short gaiters are worn over your boots to stop snow entering into the top of them.
Glacier Gear - Snow Climbing Equipment
Crampons
Any pair of 12-point crampons will be suitable to cross a low-angled glacier. Crampons improve traction on hard snow or ice, but are less useful in softer snow.

It is standard practice to wear crampons at all times when roped together on a glacier. Without them, you're unlikely to hold a falling climber.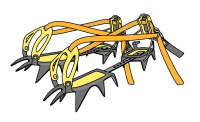 Axe
A straight-shafted 50-60cm ice axe is a good choice for general alpinism.


Poles
Adjustable ski or trekking poles provide extra balance when travelling on low-angled glaciers where an axe is too short to reach the ground. They are also useful for probing crevasses. Poles can be compressed and stored on the outside of your rucksack when not in use.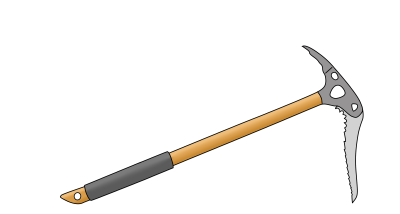 Skis
Skis are only recommended for glacier travel if each member of the team is a competent skier. Techniques such as self arresting and keeping the rope taut when moving downhill are difficult for most skiers, and will be impossible for newbies.
Glacier Gear - Crevasse Rescue Rack
Each climber should keep the following gear clipped to their harness:
- 4x screwgate carabiners
- 2x snapgate carabiners
- 2x prusik cords
- 2x ice screws (medium to long size)
- 1x 120cm sling
- 1x 30cm sling
- 1x locking pulley (optional)

Prusik Length
Prusiks are commonly made from 120cm of 5mm cord tied into a loop using a double fisherman's bend. This creates a finished loop of around 45cm.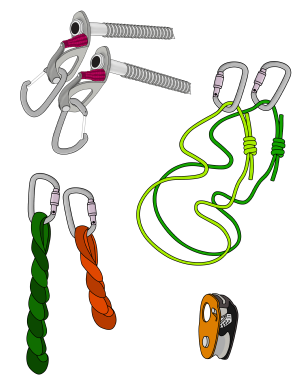 Other Personal Glacier Equipment
Each climber should also bring:

- 40-litre rucksack
- Harness
- Helmet
- Headlamp with spare batteries
- Sun protection (sunscreen, category 3 or 4 sunglasses, lip balm, hat)
- Emergency blizzard bag
- Food
- Water bottle (1 litre is generally fine if there are streams to resupply, otherwise bring more
Group Glacier Equipment
Each group should carry:

- Rope (a 50 meter single rope, 9mm in diameter with dry treatment is a good choice for summer alpine use, though this may change depending on your specific objective)
- 1st aid kit
- Navigation (map, compass and GPS)
- Communication (mobile or sat phone with relevant rescue numbers)
- Group shelter
- Spare headlamp
- V-thread tool
- Small repair kit (duck tape, short pieces of wire, knife, thin cord)