This article, 'Crevasse Rescue - Prusiking' is part of the book - Glacier Travel and Crevasse Rescue.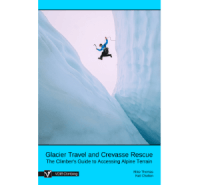 Prusiking Out of a Crevasse
Falling into the dark, icy depths of a crevasse sounds like a scene from a bad movie or a worse nightmare. But this is a real risk when travelling across a glacier, so you'll need to know how to get up to the surface.


Step 1
Imagine you are hanging in free space in your harness. Start by attaching both prusiks on the rope using klemheist knots and clip carabiners to them.


Step 2
Clip the 120cm sling to the lower klemheist and girth-hitch the other end around your foot. You may wish to shorten this sling a bit by simply tying an overhand knot in it, so that your knee is bent.
Step 3
Lift your foot and slide both prusiks up the rope as far as you can.


Step 4
Stand up in the sling by tucking your foot underneath and pressing up with your leg while pulling up with your arms at the same time.


Step 5
Clip the top prusik to your belay loop and push it up so there is a gap between the two prusiks. Sit back in your harness so that your weight is hanging from the top prusik.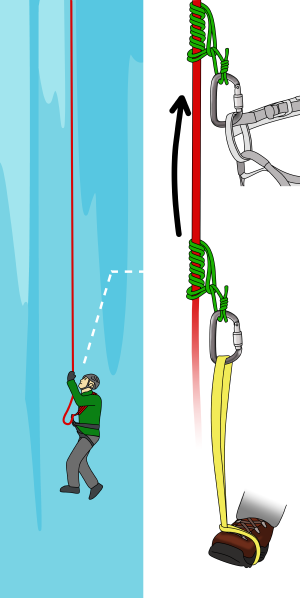 Step 6
Lift your foot again and slide the lower prusik up as high as it will go. Keep repeating this process.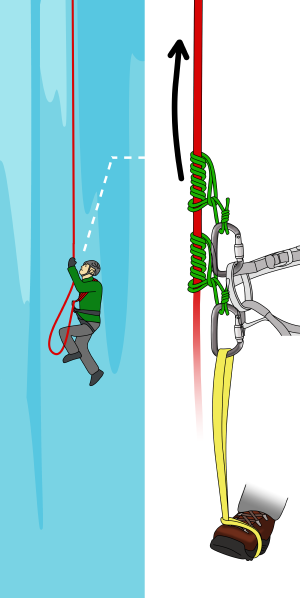 Back it Up
When you have climbed up the rope enough to generate a loop of slack, you should attach the rope to your harness with a clovehitch. This acts as a backup in case the prusiks fail.


Sliding the Prusik
You may find it awkward to slide a prusik after it has been weighted. Use your thumb to flick open the strand that crosses the knot to loosen it up.


Skis
If you are wearing skis, take them off and attach them to your harness by girth-hitching a sling around them, between the bindings.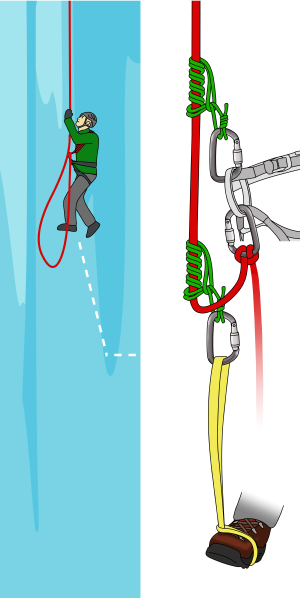 Crevasse Rescue - Prusiking Past Knots
To pass a jamming knot, clip into it as a backup and then re-tie your prusiks one at a time above it.