Available in four common sizes, cam hooks greatly reduce the need to hammer a piton. They fit into small cracks from the size of a thin lost arrow to a #1 Camalot, and work by simply camming against the sides of a crack under bodyweight.

Like cams, they do not require a constriction to work. Cam hooks can be placed in vertical, diagonal or horizontal cracks, or inverted in roofs.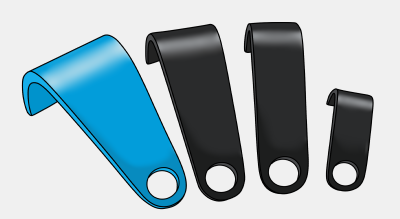 Slinging Cam Hooks
Cam hooks normally come with a sewn sling pre-attached. If yours doesn't, you can tie a loop of 6mm cord through it with a double fisherman's bend.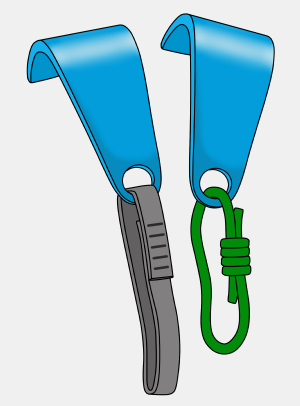 Cam Hooks - The Placement
Step 1 – Clip
Clip the cam hook to your aider.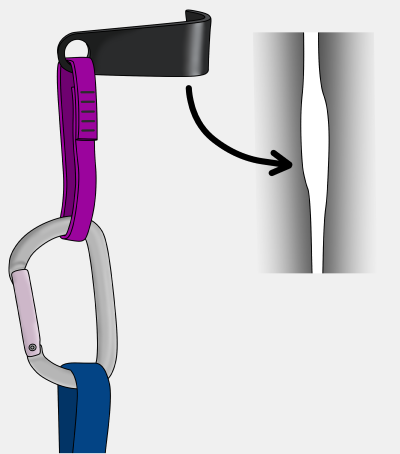 Step 2 – Place
Place it deep in the crack.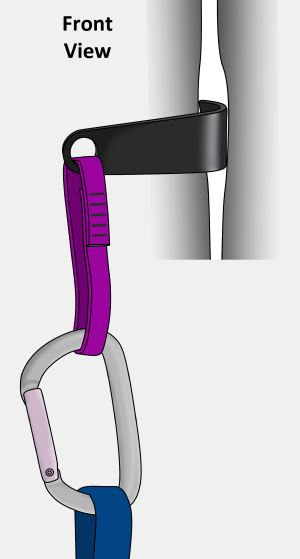 A textbook placement is in a slot-like widening (e.g: a pin scar) of a parallel sided crack. A flared placement is less secure.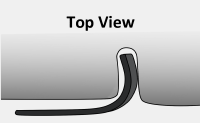 Step 3 – Weight
Carefully weight it. The leverage of a cam hook exerts a high force on the sides of the crack, which locks it in place.


Step 4 – Test
Test the cam hook's stability by applying a little extra force than bodyweight in any conceivable direction of pull. Do not bounce test it – this will most likely break the rock or cause your cam hook to fold flat.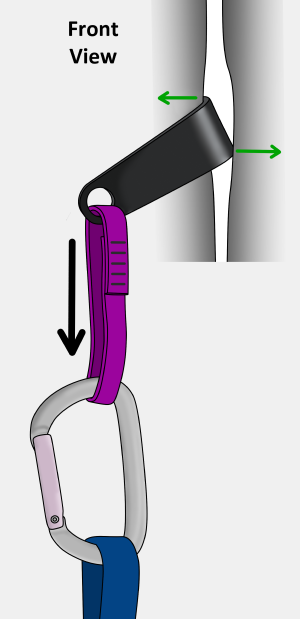 Step 5 – Move Up
Once you're happy, commit to it and continue up slowly and gently. Be careful if bounce-testing the next piece – this will momentarily unweight the cam hook and may cause it to fall out.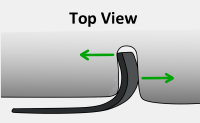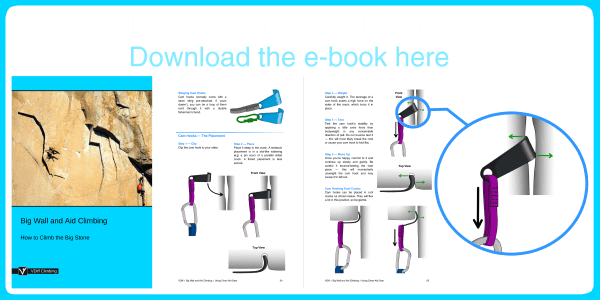 Cam Hooking Roof Cracks
Cam hooks can be placed in roof cracks as shown.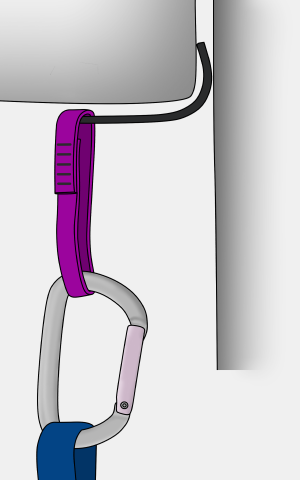 They will flex a lot in this position, so be very gentle.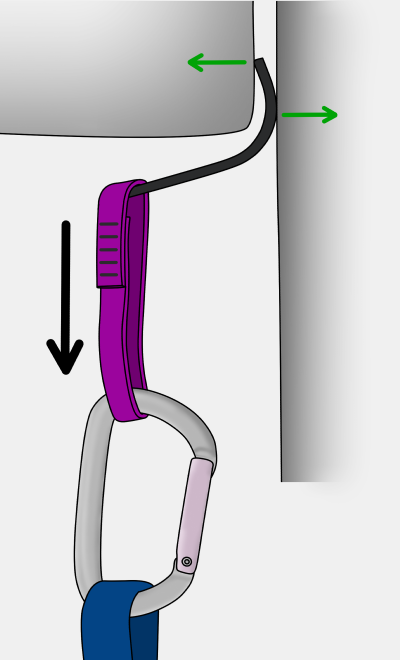 Cam Hook Tips
- Cam hooks are not appropriate for soft rock (such as Zion sandstone), as they tend to blow out the edges of the crack. Use ballnuts or offset nuts instead.

- Sometimes, a very gentle hammer tap can make a cam hook much more secure. Be careful though – if you hit it too hard, it'll cause damage to the rock and be difficult to clean.

- You can leave them behind as gear, but they are not very strong (especially when inverted) and are often unstable. Like skyhooks, they are designed to only hold bodyweight. Even in a short fall, they will most likely bend, break and fall out.

- Do not use the smallest size for inverted placements as it is very weak.

- Cam hooks are useful on expanding flakes, since they absorb the flex of the flake. The largest size puts less force on the rock than the others and is designed for fragile flakes.
Racking Cam Hooks
Rack them together on a carabiner, or with your skyhooks if you seldom use them. If using them regularly, keep a medium sized cam hook on each aider to save time.