In addition to regular trad protection, you'll need some more specialist aid climbing gear to climb a big wall: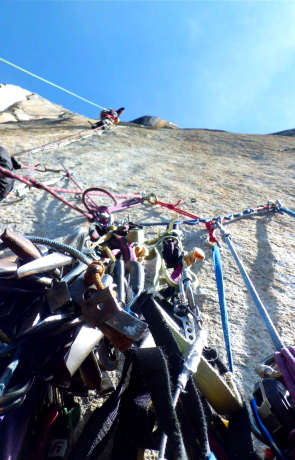 Aiders

Aiders, or etriers, are multi-stepped fabric ladders, sewn as either a ladder or in alternating triangles. They attach to the aid climbing gear you've just placed (together with your daisy chain) so that you can stand on it. You'll need two of them.

If getting the ladder type, look for some that have a solid plastic reinforcement on the top step, as this makes top stepping much easier.

Alpine aiders are the same design but made with thinner webbing. They pack up small for occasional use, but aren't as comfy to stand in for long periods of time.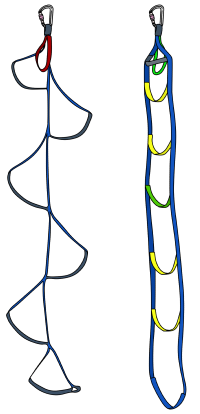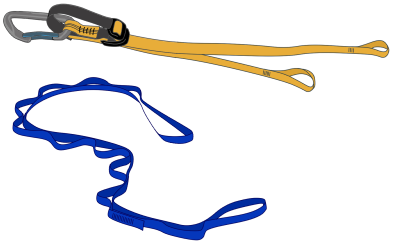 Daisy Chains

Your two daisy chains are the second part of the system that connects you to the gear. Attach the daisies to your harness by girth hitching them through the points you would tie in through (next to your belay loop). There are two main types available. Traditional daisies are a nylon or dyneema sling with lots of sewn loops in it, and must be used with a fifi hook or carabiner to adjust the length. Adjustable daisies are also available and use a buckle system for easy length adjustment. Which you use is personal preference, though the VDiff team prefer adjustable daisies. We recommend not using dyneema daisys as they're not as shock absorbent as nylon if shock loaded.
Fifi Hook

A fifi hook is a metal hook that is girth hitched to your belay loop to allow you to hook into a traditional style daisy so you can weight it at the length you choose. You can also use a snap gate carabiner instead of a fifi hook – it's a bit fiddlier but more secure.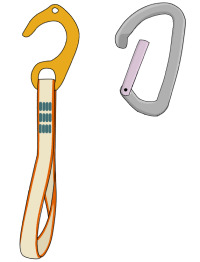 Jumars

Jumars, or ascenders, are used to ascend the rope when it's fixed in place. They're like a mechanical prusik. You need them to clean a pitch, or jumar up a fixed line. It's also a good idea to carry them on lead, in case you fall off on an overhang or traverse and need them to gain your high point again. They are designed in a left and right hand version – you'll need a pair.
GriGri

Most people will already be familiar with the Petzl GriGri. Aid leads take a long time and your belayer will have other stuff to do too, so belaying with an autolocking device such as a GriGri is essential. You also use it back up your jumars when you're cleaning a pitch.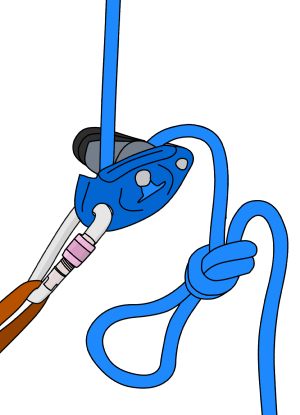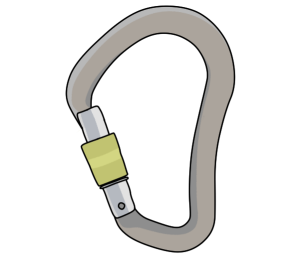 Carabiners

You'll need lots! There are no special aid specific carabiners, but you'll need more than you would take for your standard multipitch trad outing. Aim for roughly 20 screwgates and 40 snapgates in addition to the carabiners you would normally take cragging.
Haul Bag

For multi-day aid routes, you'll need to haul. Using a rucksack or any other type of bag to haul your aid climbing gear up will quickly cause that bag to fall apart. It's better to invest in a specially designed haul bag. These are made of super thick fabric and are durable enough to be dragged up rough slabs all day. Different sizes are available – get the biggest you can if you're planning on climbing long routes.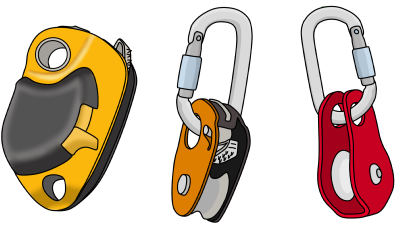 Autolocking Pulley

A pulley with a locking, toothed catch such as a Petzl ProTraxion or MicroTraxion is essential. The ProTraxion is our favourite, as its beefy design is hard wearing and can be loaded without detaching it from the anchor. For shorter routes, a MicroTraxion or similar will be fine. If your load is really heavy, you'll need a MicroTraxion and a regular pulley in addition to the ProTraxion to set up a 3:1 pulley system.
Haul Rope

You'll need a separate rope to use as a haul line. A static rope can be used, but it's better to take a second dynamic rope so you have a spare in case anything happens to your lead line. The extra stretch won't really matter.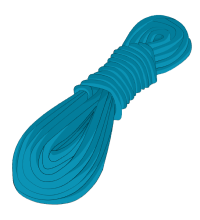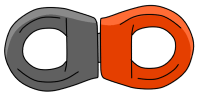 Swivel

Many people use a swivel on their haul bag to avoid the haul line getting twisted as the bag swings around. It's not essential, but can be useful.
Overnight Kit

Spending the night on a wall means you'll need even more stuff. Take anything you would for an overnight alpine climb (sleeping bag, extra food and water etc..) and also a portaledge. This will be essential for a good nights sleep unless your route happens to have lots of convenient natural ledges on it. Unless you're soloing, get a two person ledge. If there's any chance of rain, take a waterproof fly too. This also helps keep the wind out.
Aid Climbing Gear: Optional Extras

Any climbing harness will work for aid climbing, but getting a big wall specific one makes life a lot comfier. These simply have more padding and wider waist and leg loops. Whatever harness you use, make sure it's comfortable to hang in for hours. If it doesn't have a haul loop on the back, make one by looping webbing around the whole waist belt and fastening it securely.

Many aid climbers also use a bandolier or chest harness to rack gear on. Aid climbing gear is heavy, and having that weight on your shoulders rather than your hips is much more comfortable. It also helps spread the gear out, making it easier to find.

A belay seat is a really good idea on long routes. Aid leads can take hours, and belays are often hanging, so your partner will thank you for a nice comfy seat to rest their bum on.