This article, Pendulum Abseils, is part of the book - The Trad Climber's Guide To Problem Solving.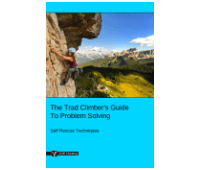 Multi-pitch descents are not always straightforward. The next abseil station may be far to the side of the previous one (they often are when descending loose ground). Or maybe you need to bail down an overhanging wall.

Being able to swing or tension across to reach the next abseil station is key in these situations.

(You can pendulum when leading too).
It is recommended to abseil with an extended belay device and a prusik for tricky abseils like these. Being able to go hands-free is crucial.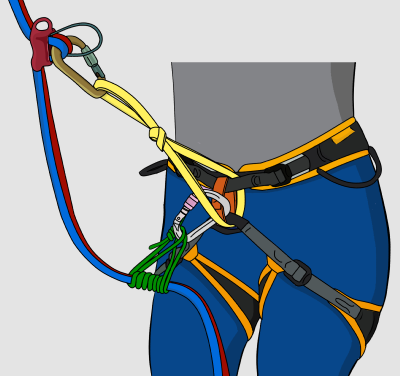 Step 1
To swing to an abseil station on overhanging ground, you'll need to start the pendulum early. Push out from the rock with your legs as you descend. Keep your momentum and be ready to clip or grab the next anchor.

If you end up stranded in space, you'll need to prusik back up and try again.

On traversing ground, it's often better to tension across (semi-climb while weighting the rope), so your rope isn't rubbing over possible sharp edges of rock. If this is too difficult, a pendulum will get you further across, but be very careful of loose rock and sharp edges when doing this.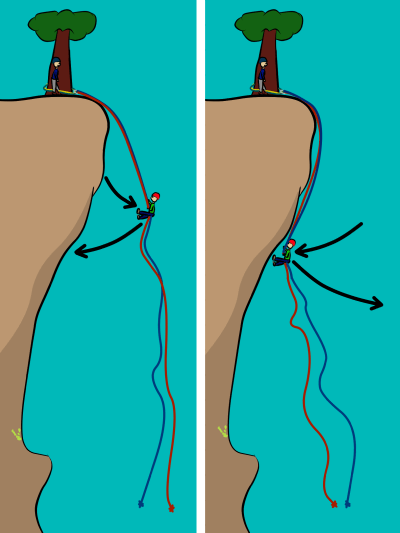 Step 2
Once you have made it to the next station, tie the end of the 'pulling' rope (the one you will pull to retrieve your ropes) to the anchor.

This gives your partner something to grab so they can get to the anchor without having to pendulum there. It also ensures that you cannot drop your ropes.

On long traverses, you can help by belaying them in too.



Step 3
Once all climbers are at the lower station, pull your ropes and repeat.

Pendulum Abseils - Top Tips
* It's better for the first climber to descend with the minimum gear needed. The other climber(s) should take the heavier loads since it is much easier to follow than 'lead' a descent like this.

* To avoid getting your ropes stuck when traversing, consider abseiling with them in coils clipped to your harness. Release them one at a time as you descend.