'Sport Climbing Gear - What Do You Need?' is part of the book - Sport Climbing Basics.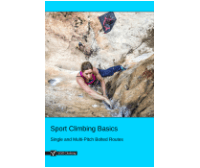 Sport Climbing Gear: Rope
You'll need a 'single-rated' rope for sport climbing. They are marked with a '1' symbol at the end of the rope. A 70m length with a diameter of between 9.5 – 10.2mm will suit most beginners and last well into your climbing career.

There are many factors to consider when buying a rope (such as dry treatment, maximum impact force and whether you will use it for other disciplines of climbing).

Learn which climbing rope is right for you.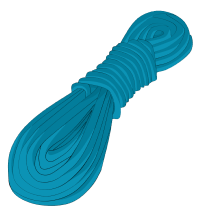 Sport Climbing Gear: Quickdraws
Any type of quickdraw will work, though sport-specific draws are often lighter. They also usually have a bent-gate carabiner at the rope-end which is held in place by a piece of rubber. This makes the draw more rigid, and quicker to use.

Quickdraws with 'keylock' gates are less likely to get stuck in an incorrect orientation on bolts than the hooked nose style.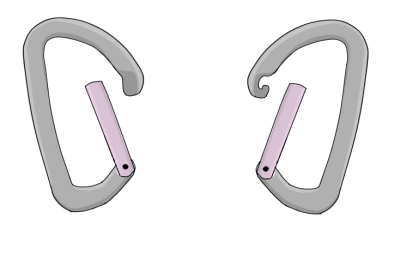 10-12 quickdraws will be enough for most routes. For longer routes, you may need 15 or more. It's also useful to have a few extendable quickdraws for bolts which are far to one side or underneath a roof.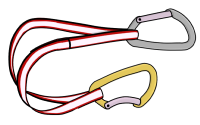 Sport Climbing Gear: Harness
Sport climbing harnesses are built to be light. To save weight, they have minimal gear loops and padding.

If you plan to use your harness for trad climbing too, you should consider getting an all-round harness which has more gear loops and a padded waist belt.

Learn how to choose a climbing harness.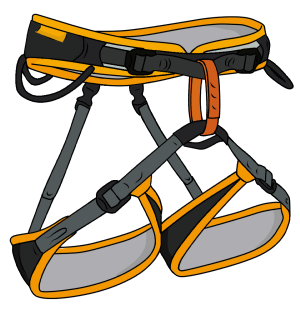 Sport Climbing Gear: Belay Device
Sport climbers usually belay with an 'assisted-braking' belay device such as the Petzl GriGri. If the rope moves quickly through the device (e.g. if a climber falls) a cam inside it rotates and pinches the rope. This makes it easier to hold the fall.

You can also belay with a standard ATC.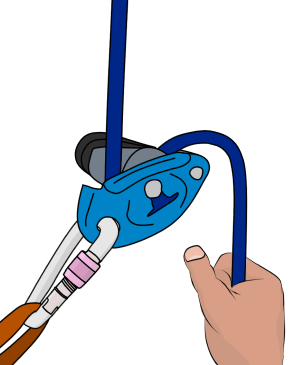 Sport Climbing Gear: Anchor Kit
To set up a top rope at the anchor, or to prepare for abseiling you'll need:

* 4 spare screwgates

* 2 short slings

* A cordelette/ long sling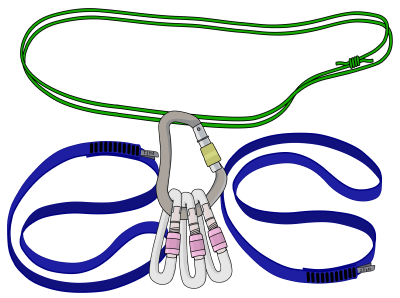 Sport Climbing Gear: Helmet
At many sport crags, it is rare to see anyone wearing a helmet. The main reason is that sport crags tend to be overhanging, making both the leader and belayer safely sheltered from rockfall. Although it's possible to injure your head in a leader fall, this rarely happens on steep, overhanging rock because the leader will fall into 'space'.

However, you should wear a helmet at a sport crag if:
- There are any signs of loose rock above
- There are people directly above you (e.g: on a multi-pitch)
- You are leading a vertical or slabby route

In these cases, it is better to be safe than fashionable.

Learn more about helmets.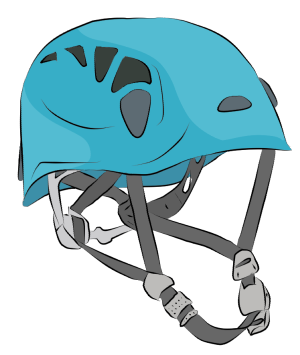 Sport Climbing Gear: Shoes
For beginners, the right climbing shoe is one that fits your foot and your wallet the best. Look for discounts, and get a general use shoe. A beginner with sloppy foot technique will wear out this first pair of shoes fast.

For your second pair of shoes, it largely depends on what type of climbing you will be doing.

For slabs, a shoe with a soft sole and a low-cut upper works well. For steep routes, you'll be better with a tight-fitting shoe that has a pointy toe, good lateral support and a very low-cut upper for ankle flexibility.

Different brands favour a wider or narrower foot, so make sure to try them on before you buy. Only shop online if you're certain which type and size you need.

Whichever shoes you get, your foot should not rotate, nor should your toes be painfully crushed up in the toe-box. A good fitting shoe is more important than one designed for the style of climbing you want to do.

Remember to air your shoes out after use and store them in a cool, dry place.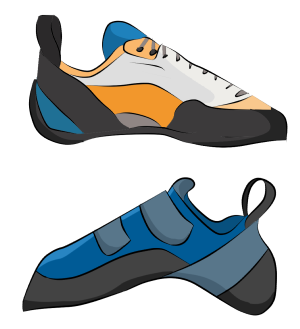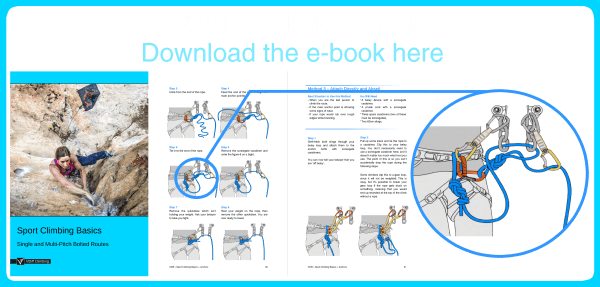 Sport Climbing Gear: Chalk
Chalk soaks up finger and hand sweat, therefore increasing your grip on the rock.

However, too much chalk on holds can actually make them less grippy. Many climbers carry a brush to scrub these holds clean.

An excessively chalked route can be an eyesore. It also reveals all the key holds, making the route much less exploratory for the next climbers.

Rain usually cleans away chalk marks from exposed rock. But overhanging routes tend to stay sheltered and so the chalk remains through all but the windiest storms. In some areas, you must use specific rock-coloured chalk. Consider your impact on the environment before you 'chalk up'.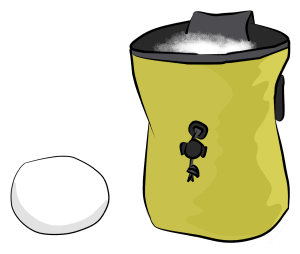 Used Sport Climbing Gear
You'll probably begin climbing using other people's gear but at some point you'll have to invest in your own. Be prepared though – climbing gear is expensive.

Pieces of equipment which your life depends on (e.g: ropes, harness, carabiners) should be bought new. You can save money on other gear (e.g: shoes, chalk bags) by getting it used. With your own gear, you will know the history of it and therefore know it's reliability.