This article about The Carabiner Brake is part of the book - The Trad Climber's Guide To Problem Solving.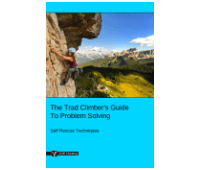 Dropping your belay device at the top of a ten-pitch abseil descent isn't recommended. But if you do, knowing how to use the carabiner brake will change your descent from epic to easy (You can use a munter hitch to abseil, but it tends to kink the rope and causes abrasion to the sheath).

You Will Need:
- 1 screwgate
- 4 snapgate carabiners.

Full size oval or D-shaped carabiners provide the smoothest descent, but almost any carabiner can be used. Really small or sharp-spined carabiners should only be used as a last resort.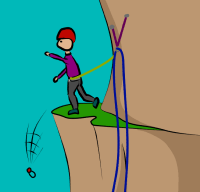 How To Set Up The Carabiner Brake
Step 1
Clip a screwgate to your belay loop and fasten it. Then clip two snapgates to the screwgate, making sure the gates are facing opposite directions and they are opposed.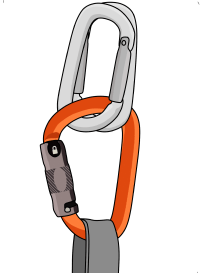 Step 2
Push a bight of both ropes through the snapgate carabiners.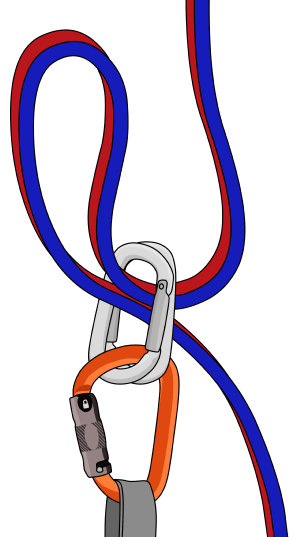 Step 3
Clip another snapgate around the ropes and also through the loop as shown.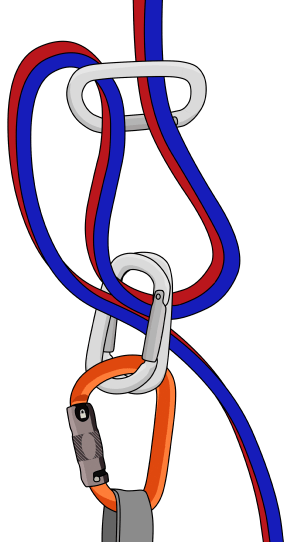 Step 4
Clip a second snapgate next to this, with the gates on the same side, but facing opposite ways.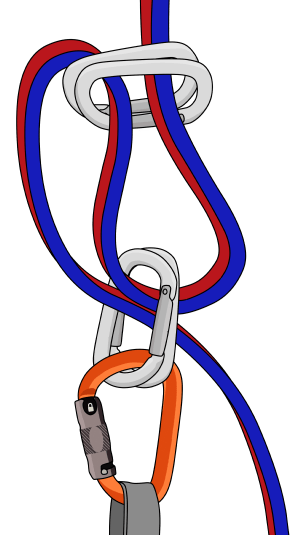 Step 5
Pull down on the rope until the carabiners align over each other.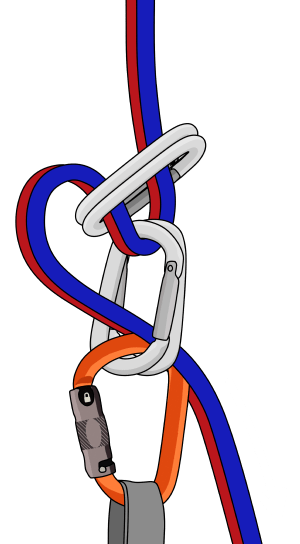 Step 6
Make sure the rope runs over the spines (not the gates) of the outer carabiners.

You can now add a prusik and abseil as you would with an ATC.

As always, remember to check the system before you detach from the anchor.