'How To Belay In Guide Mode' is part of the book - Trad Climbing Basics.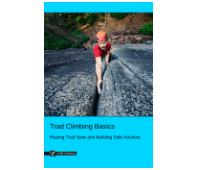 Guide Mode is an auto-locking belay technique. It is a safe way for the leader to bring up the second. Do not use this method for lead belaying.
How To Set Up Guide Mode
Some ATC-style belay devices have a 'guide mode' function - they can be set up in a way which locks automatically if a climber falls. They can be used as a normal belay device too. You can set up guide mode as shown, with one rope or two.

Simply pull the brake strands through as the climber moves up. If they fall, the device will lock by itself almost instantly. Even though guide mode belay devices are auto-locking, you should always keep hold of the brake rope.

Advantages
- The weight of a falling climber isn't on your harness, which is much more comfortable!
- You can bring up two climbers at the same time (on two different ropes) - great if climbing as a team of three.
- Because you are not directly attached to your belay device, it is easier to detach yourself from the system in an emergency.

Disadvantages
- Time-consuming to lower a climber, even a short distance.
Best Situations to Use this Method
- When it is unlikely that you will need to lower the climber (e.g: climbing an easy slab route)
- When climbing as a team of three
How To Lower a Climber in Guide Mode
Before you use guide mode, you must understand how to lower a climber.

Note: The belayer's anchor attachment has been omitted from the following diagrams for clarity.

Lowering a Short Distance
If the climber only needs a few inches of slack, you can wiggle the belay carabiner as they weight the rope. Carabiners with a perfectly round cross-section are not so effective at this.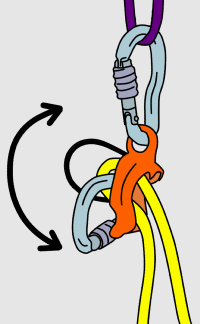 Lowering a Long Distance
There are a few different ways to do this, some are faster and some are safer. The following description is a safe way to do it.

Step 1
Redirect the brake strand(s) through a high point of the anchor with a screwgate carabiner. Then tie a prusik knot around the rope and clip it to your belay loop.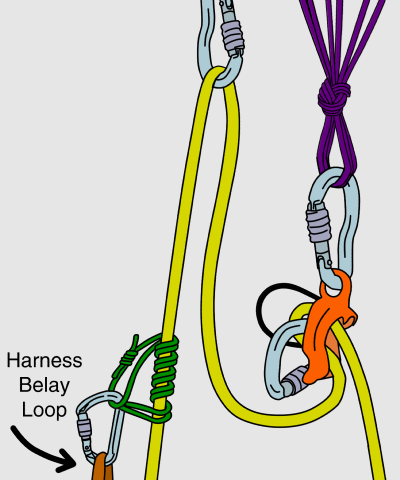 Step 2

Girth hitch a sling through the small hole on your belay device (newer devices have a big enough hole to clip a carabiner. If yours does, you can clip a sling to it with a carabiner).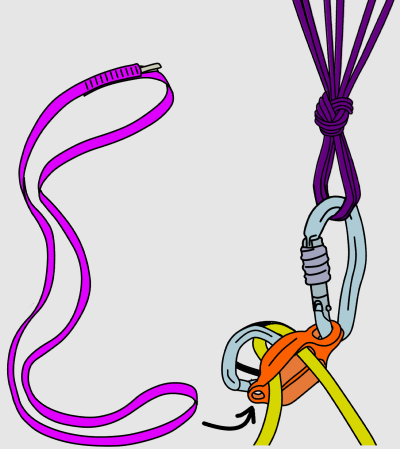 Step 3
Redirect the sling through a high point of the anchor with a carabiner, then fasten the sling to your belay loop with another carabiner. This will allow you to use your weight to release the belay device.

You could also stand in the sling to release the belay device, though it's often easier to control when clipped to your harness.

You are now able to lower the climber in a controlled manner. Remember to slide the prusik knot as you continue lowering.
Warning
Never weight the belay carabiner as shown.

This will disengage the device and cause the climber to fall.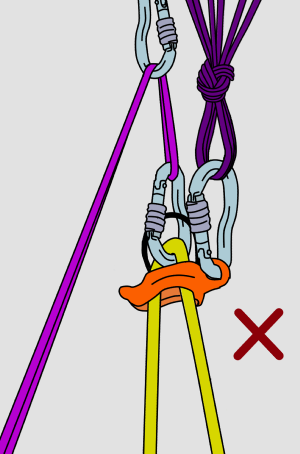 Tying-Off a Climber in Guide Mode
If you need to go completely hands-free while belaying in guide mode, you can tie-off the device.

Simply form a loop in the brake strand and clip it to the rope. Be aware that if the knot jams up into the belay device, it will be difficult to lower a climber without belaying them up a few inches first. Consider this before you tie them off.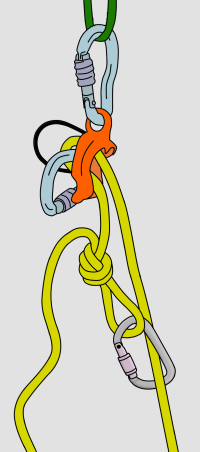 Top Tip
If swapping leads on a multipitch, you'll need to change from Guide Mode to normal belaying when the second has reached the anchor. To do this, put the second on belay as normal with another belay device, then remove the Guide Mode setup. It's better if the next leader removes the Guide Mode setup so the belayer can keep both hands for belaying.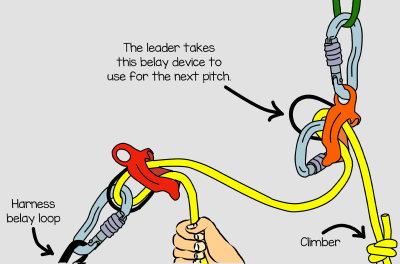 Guide Mode with a GriGri
You can belay directly from the anchor with an assisted-braking belay device in a similar way to the guide mode technique.

This method can be very dangerous if used incorrectly. Learn more here.